Sick Laser Sensors
Detection, recording, positioning, counting – optical sensors by SICK
Sensor intelligence – by using the latest ASIC and LED technologies, these sensors offer the highest level of operational reliability regardless of any conceivable interference factors. Additional sensor information can be used to simplify modern production processes.
The extensive range of photoelectric sensors is used effectively and efficiently in many automation applications around the world.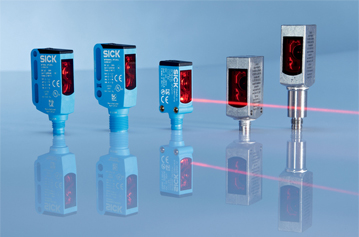 Product groups;
Precise laser light spot, laser class 1

Teach-in pushbutton can be switched between detection of transparent and non-transparent objects

Sensing ranges between 25 mm and 60 m

Latest SICK proprietary ASIC and laser technologies with second emitter LED to provide outstanding background suppression and ambient light immunity

Choice of adjustment via teach-in button, potentiometer, cable, or IO-Link
Precise laser light spot, laser class 1

Stainless steel housing with washdown design

Latest SICK proprietary ASIC and laser technologies for outstanding background suppression and ambient light immunity

Teach-in pushbutton can be switched between detection of transparent and tiny non-transparent objects

ECOLAB certified, tested to IP 66, IP 67, IP 68 and IP 69K enclosure rating

IO-Link (optional)
Laser proximity sensor with background suppression in miniature housing

Red light laser class 1

Light/dark switching per rotary switch

Fast mounting thanks to integrated M3 attachment thread

Switching sequence 2 kHz
One of the smallest laser sensors on the market

Simple alignment thanks to red light laser class 1

Switching sequence 2.000 Hz

Polarizing filter for reliable detection of shiny objects
Precise detection of small objects and object features

Detection of objects even through small openings
Less machine downtime due to stable VISTAL™ housing as well as the suppression of optical interference

The longest detection and sensing ranges in its class

Best-in-class background suppression for photoelectric proximity sensors

No blind spots, detection of shiny objects using photoelectric retro-reflective sensors

A wide variety of connection and mounting options
Highly visible light spot simplifies alignment
Best laser photoelectric sensor performance in metal housing

The original – tried and tested thousands of times in applications

Precise autocollimation optics

Adjustable focus with the photoelectric reflex sensor

High switching frequency of 2.5 kHz
Laser scanner with high beam quality

Background suppression with scanning distances up to 1 m

Small light spot in complete work area

Replaceable adapter pane for protecting the front lens against flying sparks in welding applications (optional)
Reliable target detection with difficult target colors, angles and color transitions (black/white shift)

One sensor with two outputs and two status LEDs improves application flexibility and reduces the number of sensors needed

Quick and easy comissioning with sensing distance adjustment potentiometers and status LED – one for each output

Quick and easy alignment with a red class 1 laser light

Rotatable connector and light/dark switch for mounting and installation flexibility
Cylindrical laser photoelectric sensor with high range

Optimum safety for eye protection thanks to laser class 1

With radial and axial beam emission

Teach-in and light/dark switching per control wire
One of the highlights of this range is the W280L-2 Long Range; this provides up to 3 m sensing range on black, 6% remission, (4 m on white). The option of 2 independant switching outputs allows feedback of low and high detection points. Setup is easy through an intuitive sensing range adjustment potentiometer and indicator LED for each switching output. A visible red Class 1 laser ensures alignment is quick and precise. An integrated protective system in the W280L-2 Long Range prevents adverse effects caused by reflections in the background, for example, resulting from reflective metal surfaces, windows and warning vests and ignores cross-talk from an adjacent sensor.